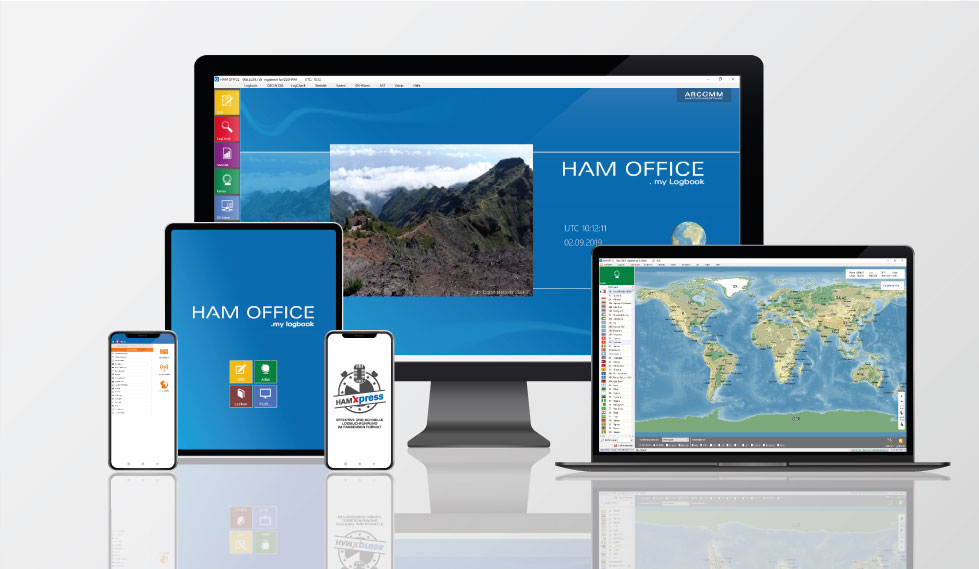 HAM OFFICE .my logbook
offers all the important functions that are necessary for the all-round input of QSO data as well as their presentation and evaluation. Help functions support every step from the start of the program.
... combines complexity and user-friendliness at a high level.
The developers managed to combine user-friendliness, many extensive features and display on different screen sizes surprisingly well and it is really fun.
New innovative databases offer more protection against loss of QSO data
Simplified handling despite an increase in the range of features
Enormous speed gain thanks to new background calculations in the databases
Pin sharp font when setting larger screen fonts
Runs stably and safely thanks to adjustments to the new Windows 10-11 structures
Many new features and improvements offer more convenience and fun.
The HAM OFFICE app for tablet PC and smartphone with many features for entering QSOs, evaluations in lists, diagrams and maps and many useful extras in the PlayStore.
more information about the app (now with quick start!)
The PC version of HAM OFFICE runs under Windows XP, Vista, Win 7, Win 8, Win 10 and Win 11 (32 and 64 bit) (C) trademarks from Microsoft
"Beginners" and experienced radio amateurs use the HAM OFFICE logbook program.
Did you know? HAM OFFICE has been the most widely used German-language logbook program since 2002.
It is constantly being expanded from version to version, and wishes and requirements for practical radio operation are adapted.
HAM OFFICE is currently used by radio amateurs in 49 countries .

WRTC 2018 We sponsored this great event.

DL0HAM

All information about our club station DL0HAM and the HAM crew:

www.dl0ham.de
LIVE

Day | 2023-12-09

active OnlineLog users

1 h

12

24 h

Ortszeit (DL)

OnlineLog-QSO

1 h

12

24 h

UTC

Chat

1 h

12

24 h

Ortszeit (DL)

Users